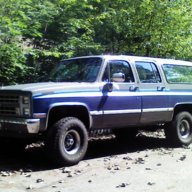 Joined

Feb 20, 2015
Posts

2,299
Reaction score

3,847
Location
First Name

Kevin
Truck Year

1987
Truck Model

V10 Suburban Silverado
Engine Size

350 TBI
@Catbox

,

Well you know that there is a huge 4 door scene with all the "tuners"! Many of them are 4 door because they are so light it doesn't matter how many doors you have, add them up and they weigh a pound of plastic and Alum. I've always liked four doors because more of your friends you can pack in there. And if the guy riding shotgun is passed out having that extra door means you can hop out at the 7-11 and take a pee if you need to without disturbing him!

And if you end up having to live out of your car, do you know how uncomfortable it is trying to stretch out in the front seat with buckets? At least with a back seat of a 4 door you can get more comfortable than you can with the steering wheel, the stick shift messing you up all night! Unless you've got the back seat of a Mustang which is NO back seat, I know.
I lived out of a Datsun 280 for a while, it sucked bit worked enough. I have also lived out a full size truck with bench seat and a few 4 door sedans, it's never comfortable sleeping in a car no matter how you look at, a back seat (especially in a smaller car like a Nova) ain't big enough to stretch out in. Only semi comfy rig to sleep in is the 'burb but even that gets hot ans stuffy, wouldn't want to have to do it for more than a weekend of camping. Don't buy a "cool" car with homelessness in mind lol. I would always prefer a 2 door for my "cool" car regardless of practicality, even when I was of the age of only having one car and needing to make it work for every situation. 4 doors isn't terrible, but I would much prefer 2 if I was trying to have something cool or fun. See: "I let practicality take over when i bought my Burb instead of a K5, now I want a K5 too..."
Last edited: