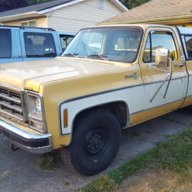 Joined

Jul 12, 2018
Posts

3,297
Reaction score

9,768
Location
First Name

Peter
Truck Year

1979
Truck Model

C20 Silverado Camper Special
Engine Size

461
Yup.
@Maxwellvis
has a buddy Brian.
Brians home life has not been the best, but he is a good kid.
He currently drives a VTec Honda Civic and is not real fond of it.
The three of us were going to the junkyard yesterday to look for some stuff.
I had no agenda other than finding gold in what ever car I could find.
Max was after a set of seats from a Hyundai Tiburon that he will fit into the '73 VW he now owns.
Brian wanted a front fender for said Honda as he was backed into the other day and it was bent all to hell.
We went in and paid the entry fee and the boys noticed the Nova sitting in the complete cars for sale row just outside of the doors.
You must be registered for see images attach
We all oogled it and poured over the whole car, there is some rust and little things that need to be taken care of over time.
But that does not stop it from running and driving.
Pop the hood and there is a greasy but very original 250 straight six backed up by a 3 speed auto (I suspect a TH350).
This car is 100% original and has not been molested at all.
It came with AC but the compressor was long ago removed, that is the biggest change to it that we had found.
It is a Concours level trim package (think Silverado).
Inside there are bucket seats and a console shifter for the transmission.
You must be registered for see images attach
The yards asking price was a cool $1999.
The boys were trying to figure out how to find that money.
I told them they are going to let you haggle the price down just like I did on a $200 set of wheels and tires I bought there last year for $120.
So Brian offered $1200 and that was rejected and a counter of $1300 was made.
That was accepted and now I have another car in my driveway until Brian is able to get the title transferred to his name.
He will pay me back when his Honda get sold after the insurance companies do their things due to that lady that backed into him.
Brian in his new to him hotrod.
You must be registered for see images attach
We got the car home and it ran and drove just fine all the 5 miles it had to go.
The kids then went up to the auto parts store that Max works at and bought the car all new belts, hoses, and other tune up parts.
After all that was installed, they washed all the grime off the car and this is what we bought...
You must be registered for see images attach