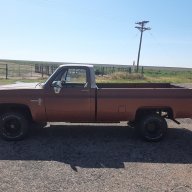 Joined

Jul 23, 2020
Posts

943
Reaction score

1,326
Location
First Name

Shakey
Truck Year

81, 70, 75, 84, 89
Truck Model

K 10, C 30, K 20
Engine Size

350
Remember, free is not always the best way to go.

Just because it was free to start with does not mean it won't end up costing you way more in the long run.

If it were me to be doing, I would look for a gen 4 or gen 6 454 and go from there.
It might be more up front, but it has a better chance of being finished and running with far less hassle.

I found this out while building aircooled VW engines.
I got a smoking deal on a forged rotating assembly, but the extra machine work that it takes has the whole thing sitting on the shelf. It is waiting for me to spend the $1000 on a new engine case.
Then the other $5000 in parts can be used, but it is a waiting game.
Makes sense, though I can do most if not all of the machining myself.
@Bextreme04
, Do appreciate it, will study the info on the site. Finding a 454 local has been challenging, have found a few, but seen to be way over priced, or rebuilt for a hot rod type application. Hell just bought 13 Chevy engines, 6 small block v8's 2 running, 4 292's 2 running, rest ate 250's all with bell housings, couple with radiators, and a diesel out of a 1466 International for a grand. I am a tight ***.