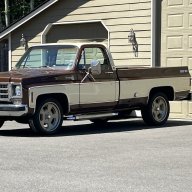 Joined

May 18, 2020
Posts

4,927
Reaction score

6,886
Location
First Name

Todd
Truck Year

1986
Truck Model

K20
Engine Size

454
The problem is that TSA is not consistent from one Airport to another. I have flown out with items in my bag, but was not allowed to fly back with the same items, and arguing with them does no good. On a one way trip it's no problem if they let you bring my, but sucks when you can't bring your stuff back.
Apparently I'm full of stories lately, but a few years ago I had some real TSA weird stuff with carryons.
To set the stage, I started using an old snowmobile backpack that we'd use in the back country so originally it was basically survival gear.
Emptied it out, I thought, but it has like 47 little pockets, and started using it for my laptop and work stuff.
Flew with it a couple times, no issue.
Heading back from Missouri, TSA picks up that there was a knife in it.
Shiiit! It was my dads old Swiss Army knife I gave to our son….
I go back out of security and ship it home. Usually if I forget a knife a TSA agent gets a nice gift and I go on.
I go thru security a second time. They find 2 more knives!!! And one was the first knife our boy got when we moved to Alaska…
Well back out again to ship them. Good thing we were early for our flight.
Now remember this bag had gone through security 5 or 7 times in previous months with the same (unknown to me) contents.
A year later, this bay definitely has NO knives in it.
We are flying back as a family from San Diego. Same bay has gone through a few more TSAs by now no problem.
Well they find a road flare!!!(for starting a fire or signaling in the back country)
This time it wasn't so funny. TSA detained me. San Diego PD got called and cuffed me and interrogated me while the bomb squad showed up and like 4 guys stared at it.
Several asked me what it was….duhhh a flare. One of them actually asked me if it was "live"???
I said idk but you could pull the cap off and try. But since you don't know what a road flare is, it's gonna stink the place up a little.
In the end they cut me loose and we made our flight.
And the kicker was, after it was all over, TSA asked me if I wished to ship it home or have it confiscated….lol. Can't make this up