Joined

Jun 8, 2020
Posts

2,100
Reaction score

6,491
Location
First Name

Justin
Truck Year

1976 GMC
Truck Model

C30
Engine Size

455 Olds
Well Gent's, all the work into the 76 GMC dually has been worth it, but now I think I may have another unforeseen problem!! Looking for advice here, I think I am on the right path.....
Not too long after firing it up for break in, this 455 just did not have the "potato" sound that it should have with this Thumpr series cam I used. Well tonight I had it idling outside the garage and heard a LOT of valve-train noise on the drivers side of the engine and it had me scratching my head. It was a whole lotta "clicking & ticking" sound!!!!
So, I knelt down by the drivers side exhaust and she just had that deep Olds grumble, and not much cam sound. Then I knelt down by the passengers side exhaust and could hear that throaty Olds big cam sound, with a little bit of valvetrain noise on passengers side....what in the literal heck is going on here! Now, I have my STOCK rocker arms & pushrods in this engine. Thumpr cam, with 402 pound dual valve springs. Some rocker arms are a little worn on the valve stem side (shame on me for using them!!), some rockers worn on the inside pivot (again, shame on me), pushrods looked beautiful & were straight (rolled them on a nice flat surface before using).
After I put the truck away tonight, I came inside and started taking a look at pushrods for this engine, and rocker arms. Most all the pushrods I see are chromoly material, and hardened and can only handle anywhere from 300 to 350 pounds of valve spring pressure. Mine valve springs are 402 pounds as stated above. Crap. I can guarantee my stock pushrods can't handle anywhere near 402 pounds.
I found these here (not available until November!!!) that should work (higher spring pressure mentioned);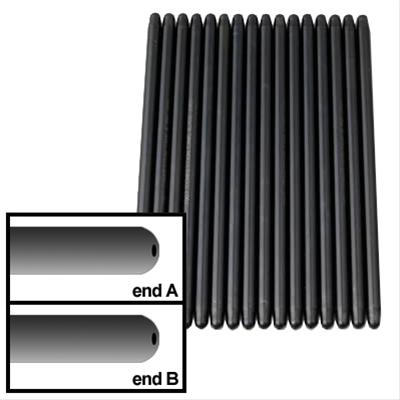 Free Shipping - COMP Cams Magnum Pushrods with qualifying orders of $99. Shop Pushrods, Assembled at Summit Racing.
www.summitracing.com
Now I need to find some good rocker arms & pivots, just unsure of what to get. Prior to doing any of this however, I need to pull the valve covers, and remove the rockers & pushrods to see whats going on. I plan to do this in the next couple of days.
With reading the above, would you guys also be looking into the valvetrain like this too? I "think" I am on the right path. I have not had this happen in prior builds with this kind of valvetrain noise.
Thanks for reading another one of my books!