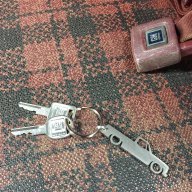 Joined

Mar 18, 2018
Posts

93
Reaction score

153
Location
First Name

Keith
Truck Year

1976
Truck Model

Sierra 1500 shortbed
Engine Size

250
So I've been on here for a while and dropped a post here and there but haven't done a proper intro. Didn't want to post one without a pic and couldn't get a decent shot in the garage. Thought today was as good as any to roll it out:
View media item 7982
The original owner was a jet mechanic and used to haul jet engines around in it. He passed it down to his son in law and that's who I bought it from. So not a one owner, but at least it had been in the same family since new.
I'm not Doc Ellis by the way, the guy I bought it from is. I don't usually name my vehicles but figured this one should have one. Doc Ellis seemed to suit the truck for some reason so there you go. I always just refer to it as "the truck" though
Last year for Chevy orange

View media item 7983
To paraphrase Tom Waits: "Straight six, three on the tree. Tight little mother..."
Of course everyone always asks "you gonna throw a small block in it?" "You gonna do an LS swap?" Blah blah blah.
The answer is no. This is just gonna be a cruiser. The six runs like a top and I love the agricultural sound of it. Really suits the truck well. Everyone knows what a small block sounds like, but how often do you get to hear one of these anymore?
And of course, three on the tree is about as OG as it gets.
If I did anything, I'd either get a 250 without the integrated intake manifold or a 292 and play around with triple carbs and all that. Really though, the engine in the truck is the one it was born with and I kind of want to keep it that way.
View media item 7985
Damn right.
I'll admit, when I first laid eyes on this thing in his garage it didn't exactly knock me over with thoughts of "OMG I must have it!"
When I looked inside and saw the plaid bench seat though, I pretty much knew it was gonna be mine.
View media item 7984
I had seen this temp plate in the glovebox and just assumed it was from when the son in law took the truck over and registered it
View media item 7986
Then I was flipping through the owner's manual one day and found this:
View media item 7987
The original 1976 temp registration that goes with the plate from when the truck was brand new. I geek out on this kind of stuff, I love having it.
So that's basically it. Plans? First of all, go through it mechanically and make it road worthy again. The previous owner did some rust repair and he meant well, it's just way off from my standards. I'm not going to go crazy re doing it all to full restoration quality, but I have to bring it up from where it is. You can see some of the patched in areas on the outside pic. That's just the tip of the iceberg.
Cosmetically, I'm going to add the side trims to it even though it's not original to the truck. Just looks too plain without it for me. I'm still up in the air whether I want to do two tone or not. I'll see how it looks with just the trim on there first.
Probably a 5/7 drop. I'm not crazy about notching the frame on this honest old rig but I'll get over it.
Going to stick with steelies and hubcaps, but will go with something a bit wider to fill out the wells some more.
That's about it. I bought this with the idea of having a lowered ratty truck so that's what I plan on ending up with.
I'll start an under construction thread here in a bit. I need to get better about taking pics of stuff as I'm working on it, we'll see how that goes...
Thanks y'all
-Keith
Last edited: