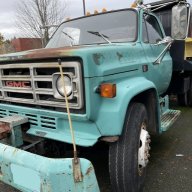 Joined

Jan 10, 2022
Posts

4
Reaction score

5
Location
First Name

Nony
Truck Year

1981
Truck Model

C7000
Engine Size

v8
Hello,
I'm no mech, so please bare with me. My smog pump froze on me, so I replaced the belt to run the alternator solo.
After a jump, it idled for a good 20 minutes then I shut it down.
Picked up a new battery from Napa and it fired right up.
The next morning I go to start it, click or pop, then silence. Turned the key again, nothing. No power to headlights or wipers.
Voltage tested the battery around 12.6
Light tested from the starter up to what I believe is an ignition relay (pic.1) After a what sounded like a random relay click, power was on continued to the steering column, so I turned the key, click, then back to square one.
But then I also light tested from the starter up to this same point, this time with the key on, no voltage found anywhere.
I found that this particular relay randomly engages, allowing me to turn key, click, and back to square one.
Also, the bypass cranking the solenoid switch, gets no crank, just some small sparks and an occasional relay click.
Im at replacing a relay, a solenoid, the neutral safety switch, or replacing the starter.
Any idea is appreciated. Thanks.
You must be registered for see images attach
Pic.1
You must be registered for see images attach
You must be registered for see images attach
You must be registered for see images attach
Last edited: