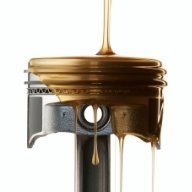 Joined

May 9, 2013
Posts

1,667
Reaction score

1,596
Location
First Name

Paul
Truck Year

1978
Truck Model

C15
Engine Size

350
Yeah, I didn't find out about those shafts until after I'd rebuilt them and I am definitely not doing that again haha. I'm saving up for the QA1 full setup so these just need to last me another couple years.

Granted, it got aligned 23k miles ago when I put the 20s on and hasn't been touched since, so it's definitely possible it got knocked out. Could be toe or camber at this point (or both). IIRC, I told them to put as much caster as they could get in it and keep the camber around 1*. I think it ended up being around 1.5* of camber, which would be fine if I didn't do so much highway driving. All of my Mustangs in the past, I've had them set at 2-2.5* of camber and always had good tire wear, but I always cornered very aggressively, went on lots of mountain runs and generally drove it like I was on a road course. Hardly ever did highway trips though and highway trips are 80% of what I do with this truck.

I do remember they suggested getting the longer studs so they could put more shims in but I didn't want to, that's alot of leverage on there.
I hope you left the - off your camber numbers there. You want negative so it doesn't go so positive during aggressive corning. My dd charger has about -1.7* and while it does wear the inner more its not super bad but it is a completely different suspension setup compared to these trucks. I'd like to get it down closer to -1 but nothing on it is adjustable except Toe
When you install the QA1 stuff try this, you probably know some of this but for the benefit of those who might not, this is how I like to start when everything is fresh an new. With aftermarket arms its a really good idea because they usually have some geometry improvements built into them and starting from scratch is the best way to get it right.
Take a look at the shim stackup as it is now. Usually the rear stud will have more shims than the front. This is how the caster is set. Remove all the shims and count them. They should match up usually except for the last couple. By that I mean if the first one behind the nut is 3/16 then it should be the same on both sides. If, for example you have 4 more shims on the rear than the front then leave those last 4 as your base caster setting, or you can leave 5 if you feel it needed more caster (which it probably does). Don't put any on the front stud and make them start from scratch. This will probably cost more than a toe and go but you're also more likely to get a better alignment IMO. Also while everything is apart, pull the inner fenders out. This will help access for the alignment guy, save him some time which should save you money. If you do this and you set the truck back down and it has a ton of negative camber you can start adding them back, equally to both studs to get it close to where it should be. I think you'll find that it wont need as many shims as you think and if its close to my specs above you'll be more likely to get that as opposed to just a toe check/set and thrown out the door. Even when you ask for your own specs they will still pull up make/model info on the computer. If its close to that spec then they will probably be reluctant to make a change even if that's what your asking for. That's why I said you need a shop that will work with you and will do what you ask. Be prepared to pay more, because your standard alignment for $60-80 is usually a toe and go and they don't want to get into shimming anything because of the time involved. Offer up front to pay the shop hourly rate if necessary or for an alignment and a hour of time etc. Whatever it takes to get what you want it set to.
Alternatively buy one of these an do it yourself and know its done right.
https://quicktrickalignment.com/product/4thgen/
I was nearly to this point and I still might do it. Even though I have a couple of shops who know and will work with me I still have to pay extra or keep and eye on them to get exactly what I want out of the alignment. Modern cars with nonadjustable caster and camber have really hurt us in this as it has conditioned the shops to just not mess with those settings, even if it is adjustable. That's a bad thing because it makes it hard to find someone willing to do the extra work or that even knows how.