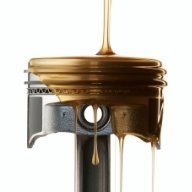 Joined

May 9, 2013
Posts

1,667
Reaction score

1,596
Location
First Name

Paul
Truck Year

1978
Truck Model

C15
Engine Size

350
Lowering your C10/C1500 (1963-1998)
So, you want to lower your truck? Got questions about how/why/what to buy? Hopefully this will help with your decisions. I will try to address most of the common questions/issues and give you a good idea of what to look for and anything that will trip you up. I know this is a squarebody forum but most of us have multiple projects and this information transfers across all these years. We will start at the front; I'll break it into sections and try to go item by item.
FIRST OFF
, In my opinion
AVOID
any and all of the prepackaged kits and all types/kinds of "drop shocks" I'll explain more but that's always the first question and will lead you to a compromise that will make you unhappy with some part of the kit or the ride quality.
Spindles:
Always start your drop here. Spindles help keep the factory ride quality, and alignment specs are easier to maintain. While they are slightly more involved on the install and cost more up front, it is the best option for the first part of the drop process.
There are 2 places that cast drop spindles, so regardless of whose name is on them, they pretty much come from the same place. Any of the bigger name companies are fine to purchase from. They all have a good track record, and all the standard spindles have the same clearance and install issues. There isn't one that is noticeably better than another.
For 63-87 they come in 2.5" or 3". It doesn't really matter which one you use. If you want to keep 15" wheels I would do the 2.5" since it won't require as much trimming to the a-arm. Anything 17" and over on wheel size should not require trimming. You will have to trim in this area for wheel clearance, it does not affect the strength of the arm at all. Leave the bump stop area alone for a static drop, the trimming you'll need to do will be on the edges out by the ball joint on both sides of the A-arm.
You must be registered for see images attach
All 63-72 spindles are setup for 1.25" rotors. If you want to build your own disc brake conversion you can get the spindles and then rotors/bearings/brakes for a 73+ (if you want 5 lug) the swap kits are generally about the same price as buying all the stuff on your own though. If you want to stay 6 lug those rotors are available but only for 1.25" spindles. So yes, if you want them on a 73+ they will work with the correct spindles for a 6 lug 2wd.
On 73-87 you can have 1" or 1.25" thick rotors. Generally, 73-80 are more commonly going to have 1.25" and 81+ will be 1". However, you still need to measure before ordering the spindles because the trucks could have been ordered either way through the model years. From what I've seen there's no rhyme or reason as to why one truck got "big" brakes and one didn't. So, save yourself the hassle and measure them before you order. You don't need a caliper to measure them just to know what spindle to use, a tape measure is fine, but measure the same way it shows here.
You must be registered for see images attach
Aside from the A-arm trimming the brake line will need bent to clear the spindle ear and the ball joint nut. This is easily done after everything is bolted up, you can take a large crescent wrench and bend it slightly until it has room around everything and while turning. I have also run across a few sets of spindles where the dust shield bolt holes are not tapped deep enough for the factory bolts. Watch that because if they bottom out before the shield is tight and you try to keep going, they will break off in there.
88-98 all C1500 spindles are 2" drop, and you also still have the option of 1" or 1.25" brakes. The 1" rotors are far less common in this generation though. 88-91 regular cabs were the only ones that could get 1" rotors. 92 and up everything was 1.25". All extended cabs, Tahoe and Suburban are 1.25"
All the spindles for these trucks widen the front track width, except for the React spindle from AZProPerformance. This is a new(er) spindle and should be the go-to unless you're on a serious budget. Any off the shelf cast wheel with a 245 or wider tire will need the fenders rolled for clearance (4" or more drop) unless you use the React spindle.
The brake line might need some bending here as well but there are no a-arm scrubbing issues on these trucks with 15" wheels. However, while the front end is apart do yourself a favor and remove the knockouts from the upper a-arm. The tool is cheap, but it can be done with a punch and a hammer. If you plan to lower more than 1 truck the tool is a good investment.
You must be registered for see images attach
Link to the tool:
There are a lot of other options for spindles now (63-87), I tried to stay just on stock style for this post. I have used a set of the new CPP X10 with the hub less rotors. That's a nice setup and gets slightly bigger brakes. I haven't been able to get a set, but I also like the looks of the Detroit Speed kit that utilizes a GMT900 hub, rotor and caliper. I am big believer in easy-to-get factory parts as I like to drive my trucks and I don't want to be stranded somewhere because of a custom part that has gone bad.
Last edited: