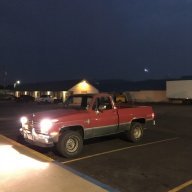 Joined

Aug 7, 2021
Posts

343
Reaction score

536
Location
First Name

Tory
Truck Year

1986
Truck Model

K10 Silverado
Engine Size

LE9 305
@SirRobyn0
Neat score! I've only seen a Magcharger once or twice, but never used one. I've always preferred flashlights with rechargeable batteries (ironic that the 2D Maglite I kept under the seat of my truck is currently sitting on the workbench with an alkaline that pissed itself jammed in the tube), and have used lantern style flashlights with lead acid batteries and a halogen sealed beam until fairly recently... they kicked ass, but the H7550 sealed beams were short lived and a bit pricey.
I don't have any room behind the seatbelt in my truck; there's a speaker at the bottom and plastic trim above it. My usual spot is under the seat... have only had stuff slide out on sh¡t-yer-pants emergency stops, or when descending really steep hills off road.
Is that black plastic brick in your first photo a transformer for plugging in to 120 volt power? If I'm remembering right, NiMH batteries are more susceptible to overcharging than Ni-Cads, and there's a chance that earlier charger doesn't account for that... I'd probably wire it to be powered when the ignition is on so there's less chance of cooking the battery pack.