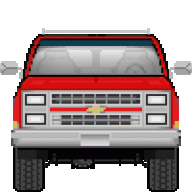 Joined

Jul 30, 2010
Posts

719
Reaction score

9
Location
First Name

Jim
Truck Year

1987
Truck Model

V10
Engine Size

350
Well guys, I am giving up on my truck. It was never what I wanted to build i the first place and the thought of sinking near $20K into something that won't be what I, no matter what, is enough for me to give up on this project all together.
The truck is located in Oakville, CT 06779. Asking price is best offer, but, since a number value HAS to be assigned, I'll ask for $1500. Reality is, whoever wants to take the three main pieces can have them for almost anything north of free.
I will NOT part this truck out unless someone decides they want to take the three main pieces off my hands first.
The cab, bed, and frame must be sold before anything will be parted out.
The truck is completely torn apart.
The frame has been stripped, all rust scale has been knocked off, coated in a rust inhibitor, and painted black. You can still see the pitting, but, it is all sealed. There are NO cracks in the frame.
The cab had new cab corners put on it back around 1998/1999. I put a new drivers side rocker on it a couple of years a go, but, it has not yet been painted. The drivers side floor pan is cut out, as are all the drivers side supports.
I have new supports that I will toss in *IF* I can find them. I also have two new fenders and inner fenders.
Three doors will be included. One of the stock doors got ****** while trying to patch them, so I bought another door to replace it with.
The bed is a long bed. Mostly solid. I have patch panels for the bedsides to repair the rusted wheel wells. Aside from that, the only "damage" to the bed would be some holes drilled into the bed rail to secure an old toolbox. I can even include a drop in bedliner if you want.
Both front and rear axles are in good shape, they simply need to be blasted and painted. I do not know what gears are in them. They are stock. The rear axle does NOT have posi. They are both 10 bolt, 6 lug.
The engine was pulled with less than 58,000 miles on it. It's a bone stock 305. It's not the dog everybody makes it out to be. This was an extremely reliable motor and never gave us any problems.
The stock 700R4 transmission is included, too.
I do not know what kind of transfer case it has. NP_look for your damn self when you come to take it away.
Both front and rear leafs were rebuilt this winter. New bushings were installed, too.
This truck is
NOT
a roller. Everything is in pieces. Multiple trailers will probably be needed to load everything up. With help, we could probably make the chassis a roller in a day if you bring the hardware with you.
Again,
I will not separate
or part the truck out unless someone takes cab, bed, and frame off my hands first.
The price is
VERY
negotiable.
Pictures
I don't check in here very often, so please PM me with any interest. You can also find me on GMFS with the same screen name.