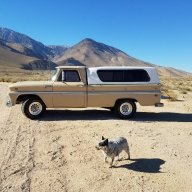 Joined

Jul 3, 2012
Posts

9,199
Reaction score

11,676
Location
First Name

Bagoomba
Truck Year

1981, 1965
Truck Model

81-C20 Silverado Camper Special-TH400-4.10s; 65-C20 with 4:57 gears and Borg Warner Overdrive
Engine Size

Carb'ed Vortec 350; 1972 L48 350
What is on the truck: Vortec heads. National carburetor quadrajet for an electric choke 3/4 ton truck. All the factory tubes and pieces. No EGR, just smog pump and plumbing for that.

The new carb had been doing a great job since October 2022, and about 4 tanks of gas had been run through it without issue. It was running like a top. Sitting a red light, idling smooth. Light turns green, I am at the front of the line, I hit the throttle and start heading up the bridge over the rail yard, and it starts sputtering. A noticeable loss of power, and running rough. It was like it was running on 4 cylinders. I never got into the secondaries, and rarely do.

I parked it and finally got a chance to check it out on Saturday.

What I have done: Checked vacuum hoses with a vacuum pump, checked choke pull-offs, snugged up the carb mounting bolts, they were a tad loose but nothing major, etc. Everything seemed to check out. As an experiment, I added a couple of vacuum tees, so I could run the distributor and the choke pull-off from the base plate, as well as the line that goes to the air cleaner housing.

With that change, I hooked up the vacuum gauge to the line that goes to the air cleaner housing and fired up the engine. It pulled a steady 16 inches. This truck requires checking the timing with the air cleaner housing installed, but with every port connected accordingly, it was like the air cleaner was installed so I checked the timing. Timing is at 10 BTDC. Right where I set it when I stabbed the engine years ago. Timing is good. I adjusted the air mixture screws and got the vacuum to 17 inches.

There are audible fuel squirts with the engine off, no play in the throttle shaft, no vacuum leaks I can locate.

With the engine good and warm, and I noticed the vacuum gauge was moving while idling, not bouncing, just slowly moving back and forth from 17 to 15 and the idle fluctuated according to the change in vacuum. I shut it down to change the fuel filters. Fired it up, and the vaccum was still fluctuating between 17 and 15. And then all of a sudden it smoothed out again.

Since it smoothed out I took it for a test drive. It started off smooth and then it started sputtering again. I noticed if I feathered the throttle or got up to speed it would usually clear up and run smooth.

Any ideas?
Last edited: