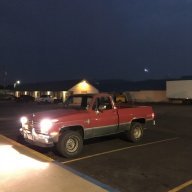 Joined

Aug 7, 2021
Posts

352
Reaction score

546
Location
First Name

Tory
Truck Year

1986
Truck Model

K10 Silverado
Engine Size

LE9 305
I just did the usual job of partially pulling down a tilt-multifucktion-automatic shift column to tighten loose screws, and managed to get just about everything back together... even got the dimmer actuator rod, ignition switch rack, and steering wheel lock pecker with its rube goldberg spring back in on the second try...

but when I went to reinstall the lock plate retainer clip, I found that the steering shaft had pulled itself down inside the column jacket about 1/2 or 5/8 of an inch, so I couldn't get the retainer on. The lower bearing was also pulled down out of its race, so I put the nut on the shaft, hooked it with some Vise-Grips and carefully pulled the shaft up until the bearing seated in the race again, and gave it another try. This time, the shaft slipped down about an inch, which was far enough to also pull the shaft out of the center of the upper bearing, leaving it just sitting in its race as half of the balls fell out of the cage and into the steering column jacket. I put some heavy grease in the upper bearing to keep the balls in place while I was trying to stuff the bearing back in place while pulling the steering shaft up through it. The steering shaft has spring tension pulling it down, so I don't have enough hands (or room) to hold it and the upper bearing in place while installing the lock plate, lock plate depressor, and retainer clip.

I don't work on columns enough to remember all the details, but I don't recall having to fight against a spring loaded steering shaft too while installing lock plate. Anybody else encounter this, know if it's a symptom of something else (like a retainer) that's broken down lower on the column... or maybe I'm doing something wrong here? The car I'm actually working on is a 1989 Buick Electra sedan (one of the shrunken head 1985-90 H/C body front wheel drive cars), but the guts in the column look identical to those in my truck.