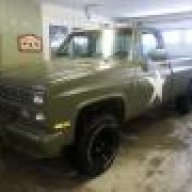 Joined

Feb 4, 2013
Posts

841
Reaction score

41
Location
First Name

Benjamin
Truck Year

1983
Truck Model

K10
Engine Size

350
I have two questions...

1. My book says this...

"Drive Axle (Rear and/or Front)
FLUID RECOMMENDATIONS


Front axles use SAE 80W-90, GL-5 Gear Lubricant. Rear axles use SAE 80W-90 gear oil. Positraction or locking axles must use special lubricant available from dealers. If the special fluid is not used, noise, uneven operation, and damage will result. There is also a Positraction additive used to cure noise and slippage. Positraction axles or locking axles have an identifying tag, as well as a warning sticker near the jack or on the rear wheel well."

What is the difference between the gear OIL and gear LUBRICANT. All I ever find at autozone/advanced auto is gear oil and my front diff needs some fluid added and book says gear lubricant.

2. When the truck is cold there is no noise but when it gets down the road a bit, there is a "rubbing/grating" noise. It is not constant,it is cyclical (like with tire rotation, hear it, goes away, hear it, goes away) It goes away totally under 15 mph. It does it with brakes off and on, in 2wd, in 4wd... it does it all the time. WHAT COULD IT BE!!!!!!!!!!!!
Last edited: