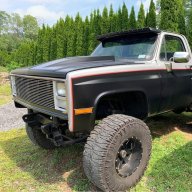 Joined

Jan 12, 2023
Posts

358
Reaction score

343
Location
First Name

David
Truck Year

1986
Truck Model

K25
Engine Size

454
I am considering doing this setup for capacity on my 454 truck does anyone have a solution for running one sending unit and letting aux tank essentialy siphon to main tank? I was thinking weld on a -10 fitting with a 1 way check valve low on tank similar to a boat. Any feedback is appreciated or enjoy the dual tank filling tip.

This allows you to fill both tanks at the same time from either side of the truck. Instead of trying to market and sell them I decided to just give out instructions and pictures of how to build your own. This way I am not responsible for anything on your vehicle should you choose to undertake this endeavor. Besides I have gotten plenty of help over the years from the truck community and it's always great to give back. The reason they are split in the middle is a couple reasons. 1. It provides flexibility and 2. You can install and remove both sides without pulling the bed.

List of parts.

1. At least 72" inches of 2" Stainless tubing. If you don't use stainless you risk the insides rusting and getting in your fuel. 1.75 would probably work as well but I wanted 2" to make sure I had enough room for air as well as fuel.

2. Gates 23972 fuel filler hose. Comes in a 3 ft section. You will need to cut 5 couplers out of it 3.5" in length. If you want the tube a little closer to the frame cut 2 of them a little shorter depending on where you want your tube. Those will be your connections between the tank and the tube.

3. 10 2" hose clamps.

Instructions. Hope you can follow along with my brain and lack of phone typing skills. LOL. If not maybe pics will be better than my instructions.

1. Cut 2 30" sections off your 72" pipe. Cut the remaining section in half.

2. Measure 24 inches from the 2 30" sections and Mark it. Measure the inside diameter of the pipe you have and drill a hole with a hole saw to match at the 24" mark.

3. Using the 2 shorter sections notch one end of each to match up to your 30" pipe. There are lots of ways to make tubing notches. YouTube is your friend.

4. Weld the two pieces together to make your T-fitting.

5. Cut both of the shorter pieces to 2.25" from the inside of the long pipe.

6. Put everything together.

7. Depending on how level your setup is I made a couple stands and bolted them to the crossmember and then welded them to the tube level. I can give you measurements but most will be different I'm sure depending on where you put them.