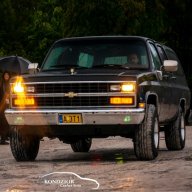 Joined

May 13, 2023
Posts

107
Reaction score

168
Location
First Name

Michal
Truck Year

1990
Truck Model

Suburban V1500
Engine Size

350 TBI
Hi!
After years of watching american car videos and over a year of looking around what to buy I got myself my first US made vehicle, a 1990 Chevy Suburban V1500. I secretly fallen in love with those things about a decade ago watching Roadkill, with Muscle Truck, Macho Grande and a ramp truck being all square bodies and frequent stars of this show.
Square bodies are a rare sight in Poland, I recall seeing just a single crew cab pickup on a road and couple more on car shows. They are just so out-of-place here with their size, gas mileage and overall design
The Suburban I got is a bit of a compromise between that good old square body, but with "modern" touches like a 4 speed transmission and a fuel injection, which is a good thing as it only burns 3 cars worth of gas instead of 4 cars-worth
It is also in relatively good shape with almost no rust, good running engine, transmission and transfer case, however it is far from showroom condition. It has been repainted from red with gray stripe to black with most of the trim removed. It is also registerd as a "historic vehicle" for legal reasons (can be driven without modification to meet EU requirements), but it also means that I can't "ruin this museum piece" by going crazy with mods.
Anyway I think I have a good starting point and I'll spend long afternoons working on that beast.
I wonder how many people we have here from Europe?