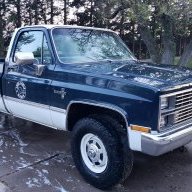 Joined

May 17, 2020
Posts

183
Reaction score

191
Location
First Name

Michael
Truck Year

1983
Truck Model

K20 Silverado
Engine Size

350
So, I've been working on this stock 83 K20 that was driven very infrequently in the last 8-10 years. And none in the last 3 years. Got the fluids right, as she'd been leaking from....everywhere. Valve cover gaskets, trans pan, power steering, you name it. Installed new trans filter and fluid. She seems to engage very nice.

BUT, if I'm doing lets say 55 mph, and let off of her, she doesn't really coast. It's almost like the danged emergency brake is engaged. I can put her into neutral and notice a slight decrease in 'deceleration' but still, it doesn't feel right.

Granted, it's a 3/4 ton 4X4 so I expect some drag, and maybe I'm a bit spoiled with my late model truck. What's a good way to confirm that I'm sure I'm not in 4 wheel drive? I don't have a light, and everything is in the right position for rear wheel drive. I don't really want to chase my tail if this is normal.

Side question. What's a safe speed that I can drive her for extended periods of time. She's only a 3 speed, and I don't think 75 mph on the highway would be good for her. I'm thinking 60 mph for cruising. I'll be installing a temporary tach to check RPM before I get her on the road, so at least I'll have SOME data before I hit the road with her...

Thanks in advance y'all!