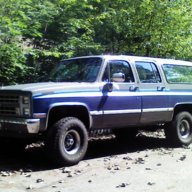 Joined

Feb 20, 2015
Posts

1,824
Reaction score

2,875
Location
First Name

Kevin
Truck Year

1987
Truck Model

V10 Suburban Silverado
Engine Size

350 TBI
Ahh, I was pretty certain that if it came with the 301 Turbo it had to be newer than a '79. Regardless of which heads it has, a true 400 Pontiac should be plenty strong. The gold car I posted pics of has the 403 Olds/3 speed auto. That motor didn't have the power of the Pontiac 400 but still moves the old car pretty well. Tire smoking burnouts are effortless.

The rims are personal preference. The rims that came on most of the Turbo Trans Ams were wider than what you have and actually looked really good. They were also used on the Silver Anniversary Trans Ams in 1979. The rims on your car appear to be from the '77 T/A which would be correct for a Bandit replica. Most folks prefer the slightly wider rims on the '79, like the ones in my pic, but it depends on how "correct" you want this car to look.

FWIW, the original Bandit Trans Am had a completely different nose than your car. The Bandit car had the nose of a '77...but in reality was a '76 with the nose caps of the '77. They used pre-production cars for the movie and Pontiac fitted the new nose cap from the '77 to the '76 model cars just for that movie.

I am looking forward to following your progress on this project.
If I get ambitious enough it just may end up with '77-'78 bumpers, nose at least. But for now I'm gonna do it up as a '79, stickers are cheaper than bumpers lol. I'm not worried about being "correct" on anything, I just want to enjoy the car for what it is. It's not a collector car, not numbers matching on any parts whatsoever lol. But only time will tell where I take it. For now honestly I haven't touched it since I got it, I start it up once in a while and that's about it. Real life is a b!tch- too much to do and not enough time for any of it. Hopefully by the spring I will have more time to work on it. Until then it just sits in the garage getting dusty.
That gold '79 is really nice BTW. Is that your car, or is it a buddy's car or something?
Last edited: