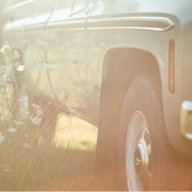 Joined

Sep 12, 2021
Posts

5
Reaction score

0
Location
First Name

Kyle
Truck Year

1979,1982,1984
Truck Model

C30,C20,K25
Engine Size

292,379,379
Hello.
I am new here so sorry if I get something wrong... I'll try and keep it short and sweet including as many details as possible.
This past April I bought an 84 GMC K25. It has a 6.2 diesel, sm465 trans, np208 transfer case, and 4:10 gears. I bought it non-running, sitting in a literal swamp, and drug it home.
When I got into it, the fuel tank was half full of 10 year old diesel, the injection pump (IP) turned out to be shot, and there was an electrical mess throughout the truck that could have been put together by a caveman.
I replaced the fuel tank, changed the IP, took out all the necessary wiring, and, in 4 months time had it running.
Here's where the problem(s) come into play.
1. I got a new grill for the front, and before I put it together I wanted to make sure the horn worked. It didn't. So I went around, cleaned the horn grounds up and nothing. So I figured it could be the relay. Messed around with that for a while and got the relay to click and buzz sporadically. I then took the top of the steering wheel apart and took the cup and spring out (with the steering wheel on) and cleaned all the rust up that was in there. This was all to no avail. I took the fuse panel apart, looked and cleaned contacts on both sides of the firewall, and still NOTHING...
2. Today as I was working on this issue, I did notice one thing - the dome lights (one by the shifter and one in the roof of the cab) come on whenever I press the horn. I would assume this is a grounding issue?
3. One more quick issue if you are feeling up to it.
Whenever the light switch gets pulled the blinker indicators both come on in the dash. The blinkers/flashers are then unoperational. I do have the rear harness cut currently. If it does not have a complete circuit to run could that cause this problem?
Any help is appreciated. I'm just trying to get the truck running under legal parameters!

Thanks Again!