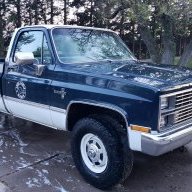 Joined

May 17, 2020
Posts

178
Reaction score

187
Location
First Name

Michael
Truck Year

1983
Truck Model

K20 Silverado
Engine Size

350
Good morning folks. I've actually got two problems I'll be asking about. Let me know if I should split them and have separate threads.
Rebuilt the Qjet on my 83 last weekend, and everything went well. The carb wasn't in too bad of shape, but I did notice that all of the bolts/screws were only finger tight. Anyway, she started right up after the carb rebuild with no issues at all. Choke seemed to be working, step downs and all. I thought I'd take her for a spin down the dirt road, and good lord, she just fell on her face! She would idle and rev just fine sitting in park, but under a load? She'd bog HARD, and try to die on me unless I backed off on the throttle. Like she wasn't getting enough fuel. Unfortunately, I had to get back to Oklahoma for work on Sunday, so I left her as is.
I get back to KS on Friday, and start tinkering with the fuel delivery system. I'm thinking either bad pump, plugged lines, or clogged fuel pick-up socks. I take a look, and sure enough, it looks like the mechanical fuel pump had been changed out (not sure when, but the pump itself looks new-ish). Continued to trace it back, and yep, it's ALSO got an electric Mr. Gasket fuel pump in there. Now, I wasn't surprised, as I had seen this all before during my walk down, but it got me to thinking. Why would there be a NEW mechanical fuel pump, AND an electric to boot??
I decided to test on it, so I disconnected the fuel line at the QJet, ran a line from it to a bucket, and turned the key to ON. Well, fuel came out, but it was slooooooow. Hmmmm. So I fired her up to run the mechanical pump until the bowl emptied. Not much better, if at all. Definitely not enough fuel to keep her going under a load. Tested the electric out of the vehicle and yep, it's shot. The inlet filter looks terrible. I'm guessing the mechanical is shot too, but I'll get to installing one later, and figured I could run an electric for now. Installed a new Mr. Gasket electric pump, and tested her again. Getting lots of good fuel at the QJet now. That's a good thing, right? Nope. Now I have a new problem. High idle. I could not get the idle to come down unless I tinkered with the high idle screw on the choke.
I got the idle down, but she still stumbles badly under load at about 35 mph. Pulled the dizzy cap, and sure enough it's pretty bad in there. Well, I have a brand new HEI dizzy, so I figured I'd just slap that in there. It was on my list anyway, so why not?
Brought the engine to TDC, changed out the dizzy, and wires, and fired her up. Set the timing, but I noticed she seemed like she had a miss. Traced it to cylinder #5. Double checked the rotor alignment at TDC. All good. Checked the plug, and sure enough, no firing. Popped a new plug in (maybe cracked ceramic?), but no good. Hell, I even put one of the old wires back on just in case. Nope.
After all that (and thank you if you're still reading), I have a couple of questions, and requests:
FUEL:
Is it possible that I need a regulator for the new electric Mr. Gasket fuel pump? Could the fuel pump be overpowering the float needle? Is that why the idle was so high?
As nasty as the the inlet filter to the old electric pump was, should I consider dropping the tanks for a cleaning and inspection of fuel gauge sending unit and socks?
CYLINDER #5
Going to be checking compression today. I'll update. If it's low, I'll be pulling the heads for a better look.
What are the odds of that cylinder taking a nose dive immediately after installing a new dizzy? Could I have caused it somehow? I can't see how, but...
Anyway, sorry the the novel I just wrote, and thanks again for y'alls time.