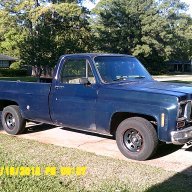 Joined

Sep 1, 2020
Posts

1,757
Reaction score

821
Location
First Name

William
Truck Year

1974
Truck Model

C10
Engine Size

355
I thought I'd move this over to "Interior" in hopes of drawing more responses.
You must be registered for see images attach
What is this called? Somekind of "Plate"? Mine has always looked like this. I can't remember it looking better than this. I probably would have kept better care of it if it had been in better shape. But you can see part of the vin, "cargo weight", something about '73, when the truck was built. What was this supposed to look like? And what is it called. I may be able to find another one and type the info on it and put it in this one's place. I found a guy on line last night that has developed the same kind of "type" and reproduces these. If he's still around, and I can find what was on this sticker I could at least send him the info. It's not really important to me, I'm not in competition for who's got the most accurate "stock" truck, but like all the other stickers that were on my truck, I did preserve them for history's sake at least.
You must be registered for see images attach
This is self explanitory.
You must be registered for see images attach
You can see the area is not big enough for the build sheet some people have talked about being in the glove compartment. That was found by the guy who reupolstered my truck. It was behind the covering of the back of the seat. He saved it for me, he's a car guy and knows the importance of it. I have it in my truck records now. You can see it's not big enough for a build sheet but looking closely at it today I see it has part of the vin number on it, something about "cargo weight" and has something about the year of mfg., whicvh was 1973. It was originally bought in November of '73 which is rthe new car year for '74, so it's a '74.