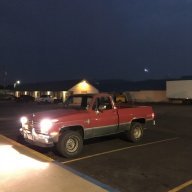 Joined

Aug 7, 2021
Posts

352
Reaction score

546
Location
First Name

Tory
Truck Year

1986
Truck Model

K10 Silverado
Engine Size

LE9 305
I'm looking for a fuel pressure tester that won't sh¡t the bed the first or second time I try to use it... I have gone through a couple of Harbor Freight gauges, one of which the gauge started filling with fuel after being pressurized for a few minutes (saw someone else here mention that problem with their crappy HF kit, too). I also need a hose at least 3 feet long to be able to monitor fuel pressure from the driver's seat while starting and driving the vehicle, as it's doing some weird stuff. I presume you buy the longer line separately, and it comes with the fittings pressed on like the short one that's included in most fuel pressure tester kits? It looks like you generally use adapters for the various test fittings used by different car manufacturers?

Looking online, I'm seeing a lot of stuff with weird brand names that sound very Chinese-y, and might be the same Hazard Fraught dreck in a different colored box. I don't need anything professional grade; it just needs to work.

Feel a bit dumb asking these questions... but I just don't work on very many fuel injected vehicles. We have a 1989 Buick Electra sedan, a 1991 Lumina sedan, and a couple of Mercury Grand Mistakes with Modular V8's in the extended family pool- everything else is carbureted.