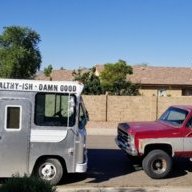 Joined

Oct 20, 2018
Posts

160
Reaction score

181
Location
First Name

Cody
Truck Year

1979
Truck Model

K20 Cheyenne Camper Special, C30 Crew Cab Dualy
Engine Size

350, 496
Hello,

So I just installed a new 150amp alternator in my K20 because I am installing a stereo system and power inverter. I had planned on upgrading the wire from alternator to the starter but am finding I physically cannot get to it. I can't even really access the starter because my headers are in the way.

I was wondering, can I just add another wire (2AWG) going from the alternator directly to the battery and leave the existing factory stuff in place?

It seems a little janky, and it seems like it wouldnt be a good idea for some reason. But after looking at wiring schematics and thinking about it I can't think of any reason why NOT to do it. Everything else would still get power, and the current should prefer the path of least resistance which would be the large wire going straight to the battery, so the smaller wire shouldnt be getting too much current. I would like to just replace everything but like I said, I physically cannot get to the bus or to the starter without taking a bunch of stuff off and I dont want to do that.

Thanks, any help is appreciated!