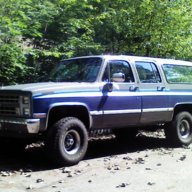 Joined

Feb 20, 2015
Posts

1,403
Reaction score

2,177
Location
First Name

Kevin
Truck Year

1987
Truck Model

V10 Suburban Silverado
Engine Size

350 TBI
Iirc, an '06 Avalon has a wheel bearing that presses into the knuckle and then onto the wheel hub. A shop press is usually needed. When there's any axle/CV problem, the entire CV shaft gets replaced. That has been common practice for decades now because they have come down so much in cost. Nobody really replaces individual CV parts anymore, even if it's just the boots.
While it is
possible
to change just the bearing itself, you generally just change the whole hub assembly that comes with a new bearing and be done with it. Most parts stores won't even stock the individual bearing, you end up having to go to a bearing shop, then you need to find someone with a shop press, etc. Changing the whole hub is great because it's 4 bolts (maybe 5, seen it once or twice, almost always 4) then you get a new bearing, axle splines, and wheel studs to boot, and it isn't incredibly expensive. Could you save a couple Jacksons doing just the bearing? Yeah I suppose if you were set up to do it quickly and efficently it's not a huge deal, but I know if I were sitting in the driveway with a bad wheel bearing and wanted my car back on the road I'd drive down to the parts store and buy whatever hub they had in stock, and toss it in. Over and done in an hour including putting away tools.
And yeah I've never bothered repairing an axle. I wait till they fail (or get very close) then just change the whole thing. You're right it is much cheaper nowadays than in the past.