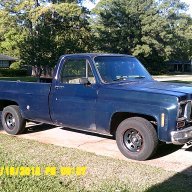 Joined

Sep 1, 2020
Posts

1,766
Reaction score

828
Location
First Name

William
Truck Year

1974
Truck Model

C10
Engine Size

355
@75gmck25
,
Yep, yep.
What I did many years ago was I never did change out the kick down bracket from the one that was on there when I had the stock 2 bbl. on it. Why? I don't know. The only thing I can think why I didn't change it was I didn't believe I was going to use the kick down all that much. I thought I wasn't going to use it, and instead if I wanted to go through the gears would be if I was at a stand still and would have it in 1st and just floor it as in racing. I have the Auto Meter shift light set up where it has a 5.6 "pill" in the front of the light so the light comes on at 5,600 rpm telling me it's time to shift to the next gear.
I can only remember actually using the kick down one time when I found myself jammed in between two tractor trailers out on interstate and they were looking like they were trying to pen me in. So I gunned it and zipped out from between them. I do remember having to floor board it to get it to work then. Considering that, it wasn't working right then, when it should only take 3/4 throttle to get it to down shift. With the new kick down brackets I just got in I will try to get it to do just that. Then if it's still shifting to soon into 3rd in Drive, the governor needs to be re-done, maybe it's just a spring change it'll need to work like I remembering it working. Before I could floor it in Drive and it would whind out each gear. Now it doesn't matter how much gas I give it it goes right through all the gears and when it reaches 21 it's in 3rd.
When I built the truck I do remember we put a 2,000 stall converter in it, but that wouldn't make it shift sooner than the governor was getting it to do anyway, I don't believe, because I remember how it was when it was stock and I could whind each gear out in Drive, and it wouldn't shift to 3rd at low street speed but at a later, 26-28 mph. So I know it wasn't due to the higher stall we put in when we rebuilt the truck. It did the same thing it used to do. The stall converter was doing things I couldn't detect by the governor doing what it was supposed to do anyway.