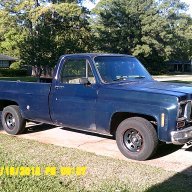 Joined

Sep 1, 2020
Posts

1,766
Reaction score

828
Location
First Name

William
Truck Year

1974
Truck Model

C10
Engine Size

355
@Matt69olds
,
And whoever else who is well experienced in TH350's. I just had my trans rebuilt. I can't give you any details whatsoever about what they did or what parts they put in. But they came highly recommended because of all the race trucks, cars old and new, and hot rods, custom purpose built vehicles they deal with those trans all the time. I felt they knew what they were doing especially since my truck is far from stock even though the trans is stock.
So here's my question, it's shifting too early from 2nd to 3rd, like at pulling away from a stop under
light
acceleration it's in 3rd gear at 20 mph. I've driven this truck since '81 and I have paid close attention to how the trans works and I like it going into 3rd at about 24 maybe 26 mph, and with a bit more acceleration maybe 28 but NO later. Now I know that it also would shift to 3rd if I was going real slow like as if you were looking for an address and were just slipping down the street it would shift to 3rd at 22 mph. I know the trans is set up to do that as well. That function is okay. I wouldn't want to still be in 2nd driving slow at 30 mph because I'm not far enough into part throttle yet. It decelerates okay, like it should.
And under
moderate
acceleration, like from a stop, you are pulling out into traffic that is at street speeds of 35 to 45 it would shift to 3rd at I think...28 mph, maybe 30 but it would take moderate acceleration part throttle to make it do that, you know? The way it's set now even under moderate acceleration it shifts to 3rd at 20 to 21 mph, no matter.
I know from hearing people on this site and from what I've read in magazines the TH350 are these soft and easy shifting transmissions and they are made that way, and a lot of people don't like that about the 350's. It's just what I've gotten used to and it's alright with me. You know everyone is different like that. I don't care for a hard shifting trans when I'm going down my neighborhood street at 25 mph, you know? I don't ever drive down them at 25 I always drive at 30 or maybe even 33. Never the less, I called the trans shop that rebuilt it and the guy said turn that screw in the modulator valve, "...a couple of turns." I made some comment and that was the end of the call. I knew to do that to the modulator valve but just to make sure that was all, that's why I called in case I needed to bring it back over there.
My other question. How much will "a couple of turns" produce in mph? And which way, in or out, I think "in"? What will a quarter turn, a half a turn, three quarter, etc. produce in mph change? When you all were helping me last year, the trans was to messed up for any changes to be working right, that's why I never fooled with it in that way. And that's why I told you all I've never messed with transmissions at all.
And I have read about the different springs that can go inside the thing, and damn it my memory, it's got the domed cover with the wire clip on it, and it's on the left side near the back kinda, that has the fly weights inside of it, I can't remember what it's called. Can't some gear shift timing be changed there as well? Help me out here, What's it called and would I need to fool with that?
Or playing with that little screw in the back of the mod. valve will be all I need to do?? And also, will changing the screw setting change all shifting, 1st, 2nd, and 3rd or just 2nd to 3rd?