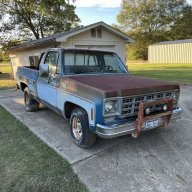 Joined

Feb 13, 2022
Posts

54
Reaction score

42
Location
First Name

Mike
Truck Year

1978
Truck Model

C10 "Big 10"
Engine Size

350 4-bolt
Hey all! I thought, as I start working on this truck, I'd post something of a mini-blog about the project, take you all on the adventure. And an adventure this will be, as I have owned exactly five American cars, this is only my second Chevy, and its my first truck. I've worked on none of my previous domestics, and a 350 is a huge change from the aircooled VW engines I have the most experience with. Still, a gasoline engine is a gasoline engine, and they all work the same way -- unless their 2-stroke or a rotary... Anyhoo!...

Let me give you the background on the truck. I am the third-ish owner of this 78 Big 10 Silverado. I say "ish" because I bought it from the original owner.
Billy bought the truck new in 77 with some interesting options checked (Silverado package, but no A/C or other luxuries), but I suppose he knew what he wanted from the truck. He drove it until 85, which is when he bought a new truck and gave this to his mother. It was used only occasionally from 85-02, when she passed away and left the truck to Billy. Sometime between 02 and 08, Billy had the upholstery redone and did some big maintenance work before the clutch fork return spring broke. For some reason none of us can really explain, including Billy himself, rather than replacing the $6 spring and keeping it on the road, he parked it in his backyard and left it there. That was 2008. The half block trip from his house to mine is the most the truck has moved in 14 years.
Another reason I say I'm third-ish is because he sold it in 2016, but the older man he sold it to never took possession or even retitled the truck as he died shortly after making the deal, and his family gave the title back.

It's all original, aside from a few expected maintenance replacements like clutch, alternator, carrier bearing, etc. It is indeed a Silverado with all the trim and chrome and carpeting. He added a few mods too. He fabricated the bumper bar and added the rollbar, as well as converting to dual exhaust with glass packs (which I'm sure are no good anymore). The engine has about 90,000 miles on it, so that's fun.

The amazing thing is this truck has no right to be as good as it is. The body is solid, aside from minor rot in the usual places (battery tray, rocker panels), and the frame is perfect. I was a little nervous about the engine at first because when I rocked the fan, the engine barely moved. But then I took the plugs out and it turns freely. the oil looks like it has 500 miles on it, not 14 years, and the level is perfect. There are no signs of oil on the sides of the engine. All the fittings are still full of grease and the bushings are supple. The steering is tight. Nothing clunks or moves in a way it shouldn't. Even the shocks act like new.

Now that it's in my driveway, my first order of business is to hear it purr. Probably Sunday, I will be performing a Vice Grip Garage/ Junkyard Digs style revival on it and get it running.
My biggest hurdle right now is what to do with the gas in the tanks - about 24 gallons of late George W. Bush era gasoline, if the fuel gauge is to be believed... I can't find a disposal site within 30 miles of my hometown, and that's a lot of gas to burn on a burn pile.

Anyway, I'll keep y'all posted on the progress. Wish me luck!