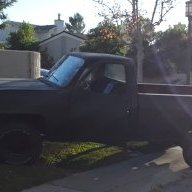 Joined

Dec 28, 2020
Posts

12
Reaction score

3
Location
First Name

Greg
Truck Year

1974
Truck Model

C20
Engine Size

5.7L 350 gas
Hello,

New 74 C20 to me 3 weeks ago. When in Drive, my TH400 shifts out of first at about the right time based on how heavy the foot is, goes thru second like nothing if at all, then right into third. This is a problem at 20-30 MPH, so I'll shift it into second until I'm ready for third. I'll often downshift to second as I'm approaching a stop so it goes thru 1st & 2nd when I get going. If I don't come to a complete stop, it seems to stay in 2nd. I feel like by 5 mph and below it should have dropped to 1st, so maybe another symptom.

My understanding is the kick-down on the TH400 is not like the TH350 with a cable attached to the throttle cable on the carb, but something in the cab on the gas pedal. Mentioning this truck doesn't have that or any kick-down I see.

I have another car with a TH350 that was doing the same thing and I found the vacuum line was not fully attached (I got it that way). I fastened it and it's been great ever since.

Based on that, I inspected the vacuum line and replaced the modulator. No change. The modulator I removed already looked new.

I'm pretty sure I checked for the presence of vacuum at the source, but I'll double check that.

Fluid is right level (checked with engine running after going thru the gears manually and driving 1 mile +) and bright clean red.

Any suggestions?