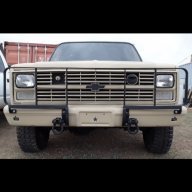 Joined

Nov 6, 2020
Posts

2,221
Reaction score

4,973
Location
First Name

Ayden
Truck Year

1986
Truck Model

K1500 Sierra Classic
Engine Size

305ci V8
So a while back, as some of you know, the 305 in my 86 GMC blew up.
I sorted through a bunch of options, and desided on rebuilding my original 305.
Block is still heatly, but it spun a bearing, and really damaged the crank and connecting rods, so they're junk. So I thought if I bought another 305 that was pretty much dead, but bottom end was good, and swapped the crank and rods, I could rebuild mine.
So the other day, I bought an old tired ugly looking 305 for $50. This thing is horrible. Must have 300k or more, or never had the oil changed, idk, but it looks like a BBQ pit after the 4th of July. Black sludge, carbon, yuck. Also, it was left uncovered, so 3 of the cylinders are rusted, valves are rusted, ect. Anyway, that didnt concern me too much cause I only wanted the crank. Well after flipping it over and taking the rod caps off, it's not beautiful.
My question here is how bad does this crank look to you?
You must be registered for see images attach
number 1 and 2 rod cap bearings.
You must be registered for see images attach
My first impression was JUNK, but is that normal, and I should'nt care? Tye other 6journals look okayish, but number 1 concerns me. I can grab the grooves with my nail. Should I use it, or should I look around for a better one?
And the second part to my question is, what's your opinions on swapping used engine parts from one engine to another?
Like let's say swaping an old crank and rods from one 305 to another? Is that a terrible thing to do, or perfectly acceptable? Like I know engines get a unique wear pattern, but with new rings and bearings, does it matter?
Opinions....
Thank you.
Pics of the ugly mo-fo, just for kicks.
You must be registered for see images attach
You must be registered for see images attach
You must be registered for see images attach