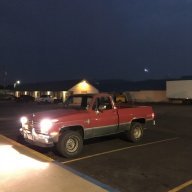 Joined

Aug 7, 2021
Posts

296
Reaction score

430
Location
First Name

Tory
Truck Year

1986
Truck Model

K10 Silverado
Engine Size

LE9 305
Shunted ammeters, like what the factory installed in 1973-75 trucks, aren't a fire hazard... though I suppose you could get a few pops and a little smoke out of one if you bypassed the factory wiring and fuses. The problem I had with my '75 was that the thing never read more than about 1/8 scale either direction... I spent more time than I care to admit screwing with the thing, and finally got it to read correctly. One thing it did better than a voltmeter is telling me when my battery was fully charged when driving home from parties out in the countryside... those ones where you have the stereo cranked up for 4 hours without running the engine. Usually was about 30 or 40 minutes into an hour drive back home before the needle would come back to center.

Full current ammeters could be a fire hazard if you have wiring that's too gimpy or loose connections somewhere... the worst I've gotten (so far) was a big arc when I was screwing with the instrument cluster in a 1978 Dodge truck without disconnecting the battery. One of the lugs on the ammeter grounded against something.

I'm guessing that part of the reason ammeters went away is that they wouldn't serve much purpose on a modern vehicle. They only show if the battery is being charged or discharged, and all modern rigs have monster alternators that can keep up with everything once the engine is running... so the thing would only show a charge for a few seconds after starting the engine, then stay in the middle the rest of the time. It would take a hunk of donkey d¡ck sized wire to feed a ~150 amp full current ammeter, and then the average driver wouldn't have a clue what it meant anyway... Quite a few modern vehicles with full instrumentation contain "gauges" that are just bullsh¡t. Ford has had fake oil pressure gauges and voltmeters in a lot of their vehicles since about 1987 or 88, and I know that the GMT360's only have an open/closed oil pressure switch on the engine. Even the ECU only gets an idiot light style signal for oil pressure, but it just tells the instrument cluster to read somewhere around 40 psi.