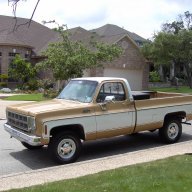 Joined

Oct 13, 2016
Posts

1,298
Reaction score

903
Location
First Name

Bruce
Truck Year

1975
Truck Model

K25 Camper Special TH350 NP203
Engine Size

5.7
First - well plug leaks were common on earlier Quadrajets, but if this is an 80's vintage Quadrajet it is unlikely to have well plug leaks. Its one problem GM figured how to fix.

If you have hard line all the way from the fuel pump to the carburetor its a little harder to splice in a T for fuel pump pressure. My truck had a short section of rubber line where they spliced in the filter near the carburetor and I was able to use that point to add a T fitting and connect it to a pressure gauge. Then I added a long line for the gauge, ran it up to the windshield, and taped the gauge to the windshield. Not elegant, but it gave me fuel pressure readings under all conditions.

I also agree that it may be something with the float level or the needle. However, usually an improperly adjusted float only runs out of fuel under extreme conditions and not just during a run around the block. The needle has to be installed correctly in the hangar and the float adjusted properly.

Also check the transfer slot exposure in the primary to make sure it is close to a square shape at curb idle. Leave it there and adjust the idle mixture for best idle. If you get the slot exposure way out of whack you may be able to get the truck to run okay by adjusting the idle mixture. However, once you hit the throttle it goes so lean during the transition that the truck stalls. This usually happens when you drop off on the throttle so it goes back to idle (like at a stop sign), and then hit the throttle to accelerate again - which stalls the engine.

Also verify your base timing, and then try increasing it to about 15-16 degrees BTDC. Also check to see you get about 18-20 degrees more out of the mechanical advance. The stock engine is very low compression so it will usually handle a lot more advance, and this will make it run better in normal driving.