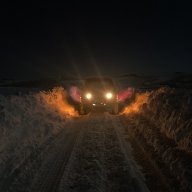 Joined

Dec 28, 2014
Posts

2,343
Reaction score

1,764
Location
First Name

Mason
Truck Year

84,79,77,70,48
Truck Model

Suburban k10, bonanza k10, c30 C&C, c10, gmc 1/2ton
Engine Size

350, 350, 350, 350, 350
My mission continues lol, picked up this 20 footer from the "big city" close to my hometown, like 30 miles one way. I've only had one long trip to pick up a truck which was like 400 something miles round trip, now parts is a different story but anyways.
1985 k10 Silverado originally a 305,700r4,208, custom two tone paint, rally wheel truck.10 bolt front and rear supposed to be 3.73's, manual locking hubs, a/c, tilt column, dome light, cargo light, cab roof lights, dual fuel tanks, dual speakers in the rear corners of the cab, no dummy lights full gauge set, cruise control, and this is my second truck with a clock in the cluster(score lol)
I don't know what it is, but me and these mid 80's trucks have some weird mojo. This truck has had a full engine transmission and transfer case swap just like my suburban, which both seem somewhat professionally done, this truck has been tinkered on since then so it's a little bit less nicely done. This truck has been repainted like my suburban was as well, but unlike the suburban they changed the color scheme and possibly the color as well. They also both had janky aftermarket grilles lolol.
The good: I believe it's a 350 now will have to check it out in the future, so that's great! It's now a th400 np208 truck, which was an unexpected score lol, now I've got at least one example of each one of gm's best transmissions of the era. The body is decently straight and rust free cab corners don't have holes yet, the floor looks good from what I've seen so far. The frame looks perfect so far, no hackery no bends no cracks in the normal places, front bumper is pretty decent. The trans and transfer case are pretty dry. It came with a free bed mounted tool box so that's neat lol matching bed rail caps, it has some ugly little tie down things on it which have to go. I might get some new diamond plate rail caps for the time being, will probably go more heavy duty in the future though, it also came with a pretty mint tailgate cap as well! I also got a spare steering column with it, because the one in the truck is the most ****** I've ever seen a column before, I'll have to get a video of it lol.
The bad: usual stuff, wiring is slightly messed with, cracked windshield, windows don't work very well, dome light missing, cracked dash, holes in the bottom of the dash for accessories plus whatever wiring for that crap, trans cooler lines are cobbled together lol, steering box weeps very slowly, exhaust is garbage, leaf springs and shocks are well overdue, tie rod bar is bent, both pinion seals leak, outer lower rockers are trashed, small rust spots on the box only one small actual rust hole, the paint is flaking on the roof and hood nothing terrible. The grille is absolute garbage and the $40 lightbar is zip tied to the garbage barely mounted grille lol, I can appreciate the zipties though

the interior is pretty rough, pretty much what you'd expect though not too bad. The rear bumper is kinda cool but it's prettyyyy beat up so it'll have to go.
The really bad: The motor is supposedly "blown", I see no windows in the block or in the pan, and no dents in the pan. I never got a straight answer but it was a younger guy, didn't seem like he knew a lot about wrenching, the truck was in the backlot of a dealership as well, if that says anything lol. But he said that it was crankshaft, rod, or piston. I'm not so sure though, the exhaust is somehow pulled out of the drivers side manifold so i don't know if that had anything to do with their assumptions? It's unknown till I can get to work on it here. Drivers side door made contact with the fender and ripped both layers of the door back in a small spot by the body line. To top it off a rattle can bed liner.... god please don't do this to your trucks lol this is gonna be a daily/hauling junk and whatnot truck so I'll just get some decent bed liner and go over it a bunch the best I can.
All in all, a little less "sound" all around than my suburban but barely by much, somethings outweigh each other against one another. But this truck has less rust than my sub, the paint isn't as nice and has a few more dents. Needs a facelift like my sub and it would make a good daily.
It even has four matching tires and wheels, and the aftermarket wheels aren't that bad looking honestly! For once lol. The tires are pretty new 31x10.50r15's as well same size I run on all my stock stuff.
The best part is I straight traded the truck for a $500 gun, another $500 dollar square for me to tally up! Not to brag or anything

You must be registered for see images attach
You must be registered for see images attach
You must be registered for see images attach
You must be registered for see images attach
Last edited: