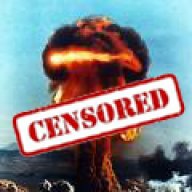 Supporting Member
Supporting Member
Joined

May 24, 2019
Posts

9,646
Reaction score

41,948
Location
First Name

Chris
Truck Year

1985
Truck Model

K20
Engine Size

5.7
I have a Hellwig rear sway bar - the original setup and hardware is pathetic. To line the bar up as they say to (and they were 180* incorrect on a 4WD application), the geometry is all wrong and there are plenty of bad reviews about the links bending and breaking in a short time. They also want new holes drilled in the frame....which isn't happening.
So I'm doing a very rough mock up of something I would hope would work better. I have a full 20 min or so into this so its just a start. The material would be 3" x 1/4" CRS. It would attach at 3 existing holes (VERY close to where they wanted new ones drilled) with a plate on the backside / inside of the frame as well. There would also be 2 gussets at the bottom right angle. I set this up with the bar exactly squared and perpendicular to the axle, which was impossible the way they wanted it installed.
Does this design look ok - with just the 2 rubber bushings at the bottom (might sandwich the bottom plate too)? It eliminates the 7/16" threaded rods they included (with sleeves) for the end links - that reviewers say buckle and break. It also allows me to use 5/8" GR8 bolts too.
THX
How they had it:
You must be registered for see images attach
What would hopefully replace it:
You must be registered for see images attach
You must be registered for see images attach