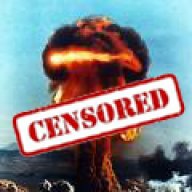 Supporting Member
Supporting Member
Joined

May 24, 2019
Posts

4,035
Reaction score

13,860
Location
First Name

Chris
Truck Year

1985
Truck Model

K20
Engine Size

5.7
Anyone had an ongoing weep in one of your diff covers? Had my axles rebuilt - they came back with the covers held on with 2 bolts and the gasket in a wrapper. I have had so many issues in the past with diff covers leaking, only way I stopped them was a film of permatex, followed by the gasket, followed by another film of permatex. Both weeped slightly but the bolts did go another 1/4 turn and it stopped.

I notice now after about 2 months, the rear has a spot under it again. No puddle - just a stain on the floor. I wipe my hand on it and its shiny, but not wet. I'm using synthetic fluids which seems thinner, so maybe thats not helping. However its just in one 3" spot.

So I'm going through the (literal) 1500+ pics I took before/during disassembly, and notice the rear diff had a dark spot / leak at the exact spot the same size and all.

My Plan B is to try and snug the bolts again, but expect to pull the cover and try again. Better gasket? Seemed pretty decent. Maybe a thicker run of permatex? Dunno.

Thx.