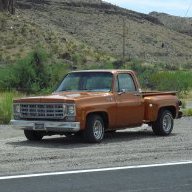 Joined

Dec 6, 2016
Posts

725
Reaction score

1,257
Location
First Name

Ben
Truck Year

1977
Truck Model

C10 BIG10
Engine Size

ZZ4 350
Thanks so much C10MixMaster, you've provided a LOT of great info. I appreciate it. Unfortunately, I still have more questions (sorry!)

1) Where is the circuit breaker on your 77? On the 2nd page of this thread (post #20, Jul 6, 2013 by HotRodPC) there is an attachment "FuseBox85K1500.jpg". It shows the circuit breaker as a silver box above the 20amp Yellow Choke Fuse. I do not have a circuit breaker in that location, and I don't think I have any circuit breaker on my fuse box at all. Or have you answered that question in your post #43 that says "the breaker near the brake booster", meaning that the breaker is on the firewall, not on the fuse box? If so, did you draw the smaller blue circle around the breaker in the first picture?

2) Can you please explain what you mean in your post #43 that says "then to a relay that's powered by acc. on the brake pedal assembly (behind the radio)"? You mean the relay is on the brake pedal assembly (???) Are you saying to get behind the radio to test for power between the breaker and the relay? Is that what you're illustrating in your second picture? Is your radio removed in that picture?

3) Yes, I believe someone put aftermarket doors on this truck, and that they are 1982? 1982? -1991 doors. Thanks for explaining the early system vs later system. I had no idea. I gotta trace the 6 wires and see where they go...
1) yes the breaker is the smaller of the two blue circles on the first pic.
2) yes the second pic is without the radio in the dash, and the relay is on the brake pedal bracket , you looking at the passenger side of the bracket about 2-3" behind the firewall..