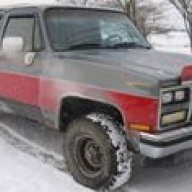 Joined

Dec 7, 2010
Posts

23,307
Reaction score

2,337
Location
First Name

Paw Paw
Truck Year

2007
Truck Model

Chevrolet Tahoe LT
Engine Size

5.3, 4WD
Well I think its a ground problem.... Not sure were the wires go under the dash though. Gonna need a schematic....

I used a test light hooked to the positive terminal battery, and touched all the window wires and none lit up. There is a large diameter red and black wire, the red is power(using test light to known ground), I`m assuming the black is the ground that is the problem cause it doesn`t light up...
The switch reverses the positive wire and the ground wire to the motor. If I understand correctly you have the wire disconnected from the drivers side motor. Take the ground lead of the test light and hook it to a good ground. With the switch in the up position you should have 12V on one wire in the motor wire connector. Switch your test light to the other wire in the connector and put the switch in the down position and you should have 12v on that wire. Put both of your test light leads in the connector (one on each wire) of the power window motor and move the switch and see if it lights up. Reverse the test light wires and try the switch in the other position. If the test lights up in both tests then you have a bad or binding motor. If the test light does not light up then more than likely the master switch is bad or there is a ground wire problem. If the driver side switch is bad or there is a ground problem it will stop all of your windows from working. Since you can control all the windows from the drives side all the ground connections go thru that switch. Good luck.
You must be registered for see images attach

schematic as asked for... hope this helps!
Original thread location:
http://www.gmsquarebody.com/forum/showthread.php?p=96265&highlight=window+power#post96265