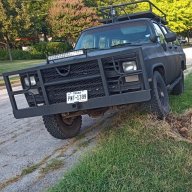 Joined

Sep 1, 2021
Posts

11
Reaction score

1
Location
First Name

Shawn
Truck Year

1987
Truck Model

Suburban V20
Engine Size

350
TL;DR - What's the best start for upgrading factory 3/4T 4x4 suspension to a softer riding, more comfortable setup? Budget first, Reasonable ride quality second, off-road capability needs to hold steady or get better, without a "lift".

Longer version:
I recently picked up an 87 Suburban 3/4T 4x4 (350 TBI/TH400/4.10/14 Bolt/285/75-16 All-Terrain's) that I believe is fairly stock and about 100k miles. The goal is to have a decent hunting truck that can do some reasonable off-roading, can also drive around town just fine, and have room for me, the wife, and all 5 kids when needed. It is also destined to be an RV Toad (pulled 4 wheels down behind my RV which has plenty of tow capacity etc.) for family vacations as a runaround vehicle while at the beach or state park, and otherwise be a fun truck/4th vehicle. (For the drivetrain, I've got a complete 6.0 donor truck that is a wrecked former daily driver of mine with hydroboost etc. and plan on doing that swap in the next year or so, but I think all of that will be independent of the suspension questions, aside from possibly front end height switching from 350 to LS. I will likely keep the TH400, although I may switch to 4L80 which would probably have a net zero weight impact. I've done the swap on an 85 Monte Carlo and am not afraid to dig in on the wiring and fuel system changes needed.)

That said, it rides... well, about like a 100k mile 3/4 ton truck and has springs that look... 35 years old. I'd like to start upgrading/replacing parts a little at a time to get rid of some rattles, shakes, and bumps and make the ride a little more livable. It's worth noting that I do not necessarily need the 3/4 ton load capacity, as the most towing I plan to do is a 3500lb utility trailer and/or loading reasonable day-camping gear behind the 3rd row. The rest of the truck made the deal, the fact that it was 3/4t was neither here nor there when I bought it, and a 1/2t would be facing the same suspension needs as well. I don't really want to lose any height, but I don't want to go up a whole lot, as the existing tires are nearly new BFG's and much higher will start to look like a football player on ice skates, so I'd rather not force myself into a wheel/tire upgrade right now. It handled everything I threw at it at the hunting lease this year, only scraped a little once but that was easily avoidable with a different driving line.

I am relatively new to 4x4's and off-road modifications, but I've been driving relatively stock vehicles while hunting for years. I know these bushings are fairly shot and that is the source of some knocks and rattles, and the front arches are a little bit inverted. Shocks are most likely stock and are functional, but that might be about it.
What should I start with that would be a reasonable gain without doing too much at once? I can probably put in a couple hundred at a time (remember, I've got 5 kids), and I know that it will take a while at that rate, but what should I plan on? Shocks? Replace leafs with stock height 3/4T springs? Just new bushings? 1/2T springs with a 2-3" lift? Remove some helper springs and install air bags? (I'm planning onboard air, and am also willing to manually inflate as needed for a time. Air Bags on my RV was a HUGE upgrade, so now I'm a believer). Also looking at the Jeep steering shaft upgrade, although the existing steering doesn't feel abnormally sloppy. What first, and what am I missing? Should I be looking at stock replacement, or mild upgrades from the likes of Bilstein or Rough Country? Or just fix all the soft parts before trying to mess with hard parts?