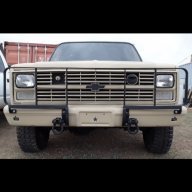 Joined

Nov 6, 2020
Posts

3,153
Reaction score

7,646
Location
First Name

Ayden
Truck Year

1986
Truck Model

K1500 Sierra
Engine Size

350ci V8
He was only like 5' tall and 300lbs. If I cut him off at the knees he'd really been screwed! Lol.

Nah, he wouldn't have given it away yet. Or ever. Pretty telling that he had so many "projects" laying around.

But will keep an eye on it. Although it's literally one of those "needs everything" trucks.

Thought about offering him $2500 on the way out but I'm not after a needs everything project. Hell, I don't even want or need another K20. I'm after a C10. But I got a little

@AyWoSch Motors

goin on and thought maybe it was actually clean.

The way it sat it was just embarrassing. I can drive a vehicle with rust. I couldn't drive one that looked like playdough hour from preschool.
Hahaha, glad I could inspire some of you, hehe.
Dealt with that sorta thing many times.
But most people round here are just like that, but luckily usually only want 1000 or less. Usually just a few hundreds.
That's what you call "good looking from a far, but far from good looking".
I had a situation like that twice here. Once was recently with a 85 gmc suburban. It was rotted to hell, mismatched tires, terrible home done camo spray paint job, roached out interior, did I mention rotted out... anyway, had a for sale sign on it, and it was in a parking lot, so I figured it drove, and I'm that desperate to find an 80s burb, so I call the guy.
Pot head from Colorado, said it runs great, clean title, but he hated the milage, so he got a car, blah blah.
I'm thinking hes gonna want $600-800, I'll hit him at $400.... nope, he said he wants $4500.
I'm like "what!?". Then hes like, well I might take less, make an offer.
I said how bout 4. He said nah, I cant take 4000, I said "no $400, it's a piece of ****".
He hung up on me after mumbling somthing.
Then there was a 80, K10, short bed stepper, sqiurcle, here in town for years. finally there was for sale sign, so I stopped by. Think I shared this one before on here.
Old guy was nice enough, but he wanted some crazy amount for it. Cant remember, think it was like 7800 or something. Then hes telling me how great it ran.... ran? As in past tense?, "yeah, well it stopped running and I never bothered to fix it". That's not "running", that's "not running", simple. And then hes telling me how he and his brother had done a bunch of body work and bondo to it and painted it. For one, primer isn't painted, its primered, not painted. And the body work looked like ****, either they did a terrible job, or they did it back in the 80s and it has that many miles on it. No thanks.
Aside from that, I've had pretty much good or expected experiences.