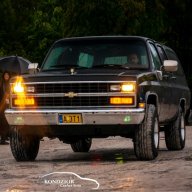 Joined

May 13, 2023
Posts

107
Reaction score

168
Location
First Name

Michal
Truck Year

1990
Truck Model

Suburban V1500
Engine Size

350 TBI
Hi,

I'm trying to find out what are the options for tuning of the 1990 TBI system these days. From what I've learned the ECU has a PROM memory, a one-time programmable chip that stores the base tune and adjustments are done on the go using inputs mostly from O2 sensors. That's similar to what I'm familiar with from a 1990 Honda CRX I used to own. In a Honda in order to tune ECU one had to replace the PROM with EPROM memory (a memory that is erasable by exposing to UV) which made it possible to do couple of iterations of tuning without wasting single time programmable memories.
The other option was to switch to the more modern ECU which could be reprogrammed without that much of a hassle.

How it's done in case of GM TBI computer? I found that in past there were companies selling pre-programmed chips with some tunes, which puts a big red warning light in my head as each engine is different. It looks like many old links are not working anymore, so my question is related to what are the options as of today? Ideally an option with EEPROM or a FLASH memory would be the best.

A costly option of putting an aftermarket TBI system or an old school option to change to carb are the ones I'd prefer to avoid, as technically all the parts needed are there already, it's just a matter of tuning. I'm not planning to build an engine that would justify these changes, instead I want to learn more and play with the car as much as I can myself.