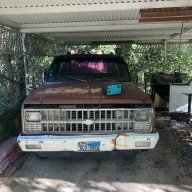 Joined

Oct 24, 2021
Posts

90
Reaction score

120
Location
First Name

michael
Truck Year

1981
Truck Model

C10
Engine Size

250/I6
Hello all! I FINALLY had the time to finish installing the harmonic balancer on the basket case. I followed the advice of the group and purchased the jig and associated taps and frill bits so as to tap and thread the crankshaft snout on my I6. That was easier than I thought it would be since, for once, I read and followed the instructions! Working for a fastener company comes in handy at times like these since I was able to score a 3' length of 7/16-20 B7 hardened all thread rod, grade 8 nuts and enough fender washers to press the balancer back onto the crank. Since I was afraid that i was going to snap the all thread rod, or the crank this process was just past terrifying for me. Needless to say the engine now runs and idles and spins what it should spin. I also replaced the driver's door regulator and the missing door glass that has been missing since the previous owner broke it 5 years ago. You ever try to install door glass with greasy hands from the window regulator and NO idea what you are doing? After that, I need a stiff drink. I also got the door card back installed and improved to include the missing arm rest that was found under the seat when I cleaned the vehicle out when I first got it home. All that is left at this point is transmission (going in this weekend hopefully) and tires that are less than 10 years old and have some form of tread on them.

Mike in Leon Springs
owner of the 1981 stepside known as the "Basket Case"