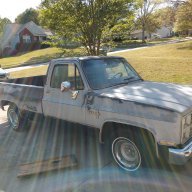 Joined

Apr 21, 2021
Posts

7
Reaction score

3
Location
First Name

Chris
Truck Year

1984
Truck Model

C10
Engine Size

305
Just a quick update. I plugged all the ports. Replaced the worst of the hoses. I adjusted idle screws and idle mixing screws to be most restrictive. I have the throttle and choke mechanisms moving pretty good and do not seem to stick when manually operated.

Other than getting the engine to backfire, the revving issue persists.

I even tried setting up the vacuums to match the diagram (and plugging where parts are missing). Same result.

I did notice what looks like burnt fuel on the underside of the air cleaner lid. When I tried the old air cleaner, it did a wonderful dance atop the carb for a few seconds (shorter stud didn't let me secure the old one back). The fuel gauge is also moving towards empty.

I went ahead and ordered a new carb and will put that in this afternoon. I've had a suspicion that the carb was the culprit the whole time so I want to see if I am right.