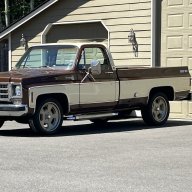 Joined

May 18, 2020
Posts

4,927
Reaction score

6,886
Location
First Name

Todd
Truck Year

1986
Truck Model

K20
Engine Size

454
So not a lot of experience with LS engines. Need some advice from the GMSB brain trust here…
01 Tahoe bought recently for our son's commuter car.
Supposedly 120k miles (why I bought it, now 130k after the last few months of driving it), not sure I trust that the odometer hasn't been swapped and same goes for the engine. No maintenance or repair history but a fairly believable story.
Mechanically it ran like a lower mile rig and honestly still does. However it does have a bit of an aire of previous owner idgaf. If that makes sense.
Typical cold start piston slap, no problem.
Little issue with it sputtering and sometimes dying right upon cold start. No persistent codes. Cleaned maf and double dose inj cleaner. Research says weepy intake manifold seal when cold. As it totally clears up after only a couple minutes tops of running.
Very small oil leak. Talking only a few drips overnight and not slinging oil underneath while driving. So the majority of the oil is not going on the ground but rather out the tailpipe.
BUT it's an oil sucking pig. A quart per 1000miles maybe less. No blue smoke, haven't pulled plugs but runs just like a sewing machine.
Put it this way, it never needs an oil change. Put 8-10k miles on it and probably 2 gal of oil or close to it by now.
What's the skinny on these motors if they're using oil?

Are they known for some simple (or expensive) issue if they're using a lot of oil?
Sort of hinges on whether I keep it or make it someone else's snackwagon in the near future.
Also any insight into the rough idle/dying after a cold start would be appreciated. I did one check for a vacuum leak real quick but cold wasn't as cold that morning. I briefly thought I picked up a small intake manifold vac leak up front (spray starter fluid method) but not sure.
Last edited: