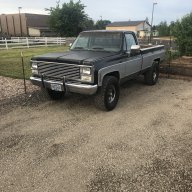 Joined

May 13, 2019
Posts

2,921
Reaction score

2,876
Location
First Name

Eric
Truck Year

1980
Truck Model

K25
Engine Size

350-4bbl
I haven't picked up the shaft (get it tomorrow) so I'm not sure of the length. Should a regular automotive machine shop be able to bore the case or do I need to take it to a regular machine shop?

I happened to be checking out an auction for the estate of a old repair shop owner, a lot of 50's parts, but happened to see a box marked New 205 input shaft for a TH400, since it appeared to be what I will need for my NV4500 conversion, I bid on it. Only paid about $60 for it and some other parts, so if it isn't what I need, I'm not out much, and should be able to sell it.

I'm still looking for parts for the conversion, and the truck won't be ready for it for a year or so, so I will keep looking for a 205 set up for a 400, but will use this as a backup. I suppose it will also depend on what it will cost me to have my case machined, and what I have to pay for a 400/205 transfer case, to decide which way I will go.
ORD charges $190 + shipping to do the machining. I'm pretty sure it is just boring out the case an additional 10mm for the larger bearing.
https://www.offroaddesign.com/labor-to-machine-np205-case-for-90mm-input-bearing.html