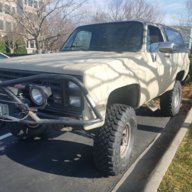 Joined

Sep 14, 2018
Posts

14
Reaction score

5
Location
First Name

Dominic
Truck Year

1988
Truck Model

K5 Blazer
Engine Size

350
Last summer I removed my power windows and converted them to manual (and replaced all the rubbers while I was at it). I ran into an issue with the door channel's weld popping loose - I've fixed that with a rivet but with my new rubbers, the glass pulled out of the sash when I rolled the window down. Any of you know a better way to seat the glass in the sash instead of using the thin rubber piece that forms a u-channel? Hate to say that the seal is too tight (insert obvious comments here...) I've looked online and can't find any videos or how-to's on this - there are some but they don't cover the glass/sash install. Maybe a Urethane Adhesive? I am concerned that if I glue it in, I don't have the right spacing left and right.

Also, It was a pain to get the rollers into the sash with the rubbers and vent window in. I see some folks take out the vent window to re-install the glass...is this what I should do once I set the glass so I can install the glass and sash in one piece?

I have no AC and driving around with the door panel off isn't something I want to do for too long. Thanks in advance for any tips in this 90+ heat!