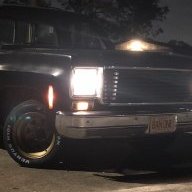 Joined

Feb 20, 2020
Posts

8
Reaction score

13
Location
First Name

Matthew
Truck Year

1976
Truck Model

C10
Engine Size

454
I've read up on several seat swaps, and did a similar seat swap in a W150 a few years ago. That told me what I was in for.....Anyway, I wanted the seats out of the 99-06 trucks in my 76 and was always told how tall they were and how much of a pain it was. So I am going to document my install for anybody else that might want the same.
So far:
76 C10 reg cab...had a bench seat that was "custom" sometime around 1988....it'll make a great seat....in a man cave. Probably going to put casters on each corner and have a rolling couch.
I don't really care for the seats from the early 90's trucks....They are comfortable, but I did't want anything that looked like a couch. I considered 94-02 Dodge seats, but decided to stick with Chevrolet.
Went to a pull-a-part and looked over everything about 15 times before I decided to pull the seats out of an 05 1500 that had been wrapped around a pole. They are the 40/20/40 seats...the ones that look like they have a fold down center console but its actually just an uncomfortable middle seat. ($100 with belts and sliders and all)
The seats come out in three individual pieces, so I pulled the bench out and threw the driver's seat in. It is tall. But I am 6'1' and it isn't tall enough for me to hack them up. I want the sliders and recline features functional. Keep in mind, the previous owner installed a steering wheel that is TINY. I may change my mind about all this when I get a real steering wheel, or I may just install a tilt column.
In my truck, the center seat and cup holders won't fit. I have a B&M shifter and the cup holders won't let it go any further south than Drive....so I cant lock it in 1st and take off. My plan is to build a mount that will span the entire width of the cab and mount the driver and passenger seats. After that, I will build a center console out of plywood and cover it in material. Right now, it's just a plan...but I will update this thread as I go.
You must be registered for see images attach
You must be registered for see images attach
You must be registered for see images attach
You must be registered for see images attach
You must be registered for see images attach