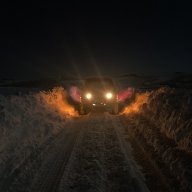 Joined

Dec 28, 2014
Posts

2,416
Reaction score

1,891
Location
First Name

Mason
Truck Year

84,79,77,70,48
Truck Model

Suburban k10, bonanza k10, c30 C&C, c10, gmc 1/2ton
Engine Size

350, 350, 350, 350, 350
Well I guess my 10 bolt luck strikes again, I knew it wouldn't be long since the pinion nut was loose when I installed the axle from the donor. But I told myself I was getting every last mile out of it lol.
My first 10 bolt did this. Nothing crazy, broke the cross pin bolt somehow then dropped the cross pin and grenaded the carrier. This should be the picture you see when you look up a 10 bolt lolol
You must be registered for see images attach
Round 2 did this. Ive never seen this and don't think I'll ever see it again. I also wouldnt be the least bit surprised if none of you have seen it either.
After I found out the actual issue later, I was able to piece together what happened. Was making a left hand turn from a stop sign and got a little bit into it in the middle of the turn, nothing crazy at all, I heard a "thunk" not a "clunk" but that "tink" when a piece of metal cracks, which would have been that spider gear cracking. Then I drove straight, at a consistent speed for about a mile, no noise whatsoever. Then another stop sign, then about 100ft after that stop sign, clunk clunk clunk clunk, about the speed of the carrier turning. I thought for sure the cross pin was ejecting itself, and was about to lock the rear any second. Lucky I had a parking lot to turn right into. Pulled in and checked the rear end, warm but nothing out of the ordinary, drove it around the parking lot and not a single noise again. Super confused in the moment but knew it was the rear, and didn't lock up or stop turning the rear axle. So I cautiously limped it home a few miles, made it no problem, no other noises either(spider gear fell to the bottom of the case) was checking to make sure I didn't lose an axle shaft the whole way lol.
Somehow a single spider gear shattered into pieces without the cross pin coming out or anything else coming loose or getting destroyed. Other than the obvious beating from the chunks flying around.
The crosspin and spider gear were not loving each other. Also you can see on the one spider what looks to be some heat traces, and on all of the spider gears what looks to be delaminating or rust pits that got polished up. But it seems more like it was chunking. As there's not rust going on anywhere else.
Long story short. Goodbye 10 bolts. Forever. I've got a pair of axles lined up until I can build my 3/4 tons. Guy has a Dana 44 and a 12 bolt rear with 3.73's which I just need the rear but I won't pass up a 44. He wants $400 for the pair, in what seems to be good working order so I have to get the front too of course lol. Hopefully they're decent and I know that 12 bolt will last.
You must be registered for see images attach
You must be registered for see images attach
You must be registered for see images attach