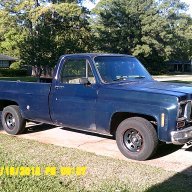 Joined

Sep 1, 2020
Posts

1,766
Reaction score

828
Location
First Name

William
Truck Year

1974
Truck Model

C10
Engine Size

355
pics.
You must be registered for see images attach
Well, this is what happens when you don't finish the fit up. You find out that when the lower trim is put in my little sculpted piece is off by a quarter inch. Oh well, time to get the Dremel tool out again. I was going on the straight line at the opening for the edge of the trim piece. I thought that that line was a good place to cut it off. I don't know why that didn't work. Oh well.
You must be registered for see images attach
Okay, done. It didn't take but a couple of minuites to get it right. And now we have a piece that fits when everything else is in place that needs to be in place. Don't worry about the bottom of my piece, it's just I don't have the lower trim part screwed in tight on the other side. It'll be okay. But now it's ready to glue in.
You must be registered for see images attach
Here it's lined up pretty good. It was that little tip right at the edge where it's bent over to form the circular opening that I had to make sure was cut correctly. It would hold the whole piece off if that tip wasn't cut down right. The trim piece is in on both sides, and after I made sure they were in that's when I knew it was reshaped right and ready to glue finally.
You must be registered for see images attach
I am well experienced in gluing plastics. This is the best for most all plastics. It sets up fast, holds initial strength in about a minute or two, and cures hard in twenty-four hours. But do you know why I can glue something like this piece with confidence? Because I had kids who played with toys and didn't have the money to replace them. So I fixed them. When the little kid is standing there crying their eyes out holding two pieces in their little hands, you have to get creative...fast! But fix it with what? A nail? A piece of string? I went through all the Super Glue(s), polyvinyl chloride adhesives, and glue for poly styrene, and all the other crap they make plastic toys out of. I know what works and it ain't Super Glue! Super Glue is good for some poly styrene's, but it ain't worth a crap for some other plastic toys made in China out of who knows what the heck it is. So I know my glues and what works, and what doesn't on whatever it is you need to glue. Now, the other thing is, why bother with it? If it's broke just throw the thing in the trash, or tell the kid to play with it broke. Really? Really? Well, since I'm a fixer to begin with, I wanted to see if I could fix it. Besides that garners hope in the heart of the kid if you at least make an effort to make those tears go away. If you don't have kids then you'll never know the look on that kids face when in a couple of days you hand them back what was broke, now it's whole. And they give you this look like you just performed some miracle. Their Beatleborg, Power Ranger, or Teenage Ninja Turtle action figure is now ready for battle, or what's better, that Barbie doll is ready for the runway!!
Last edited: