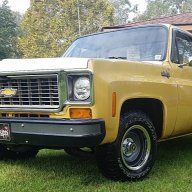 Joined

Mar 25, 2020
Posts

149
Reaction score

156
Location
First Name

John
Truck Year

1974
Truck Model

C10 Custom
Engine Size

250 CID Inline 6
Advancements can also suck real bad. I have an 05 Lincoln Aviator. DOHC 4.6 with the best set of DOHC heads ford did(DC heads). 117,000 miles and the tensioners and guides went.

You would think, hey timing chains not a big deal. Screw that Ford wants $3,100. Its so damn advanced as to be a complete and utter pain to do myself. 6 sprockets, 4 chains, plus tensioners and guides. I have the timing set but no patience for it yet.

Screw Fords advancements, give me a simple Chevy any day.
Well, that engine has been phased out, but you can enjoy the diesel-like noise a newer direct-injected 5.3L makes at idle, especially when it gets to or over 100k. The older 5.3L was a good engine, the newer versions are garbage.
Neither one (Ford or GM) are perfect, but I was mostly speaking of the entire truck, not just engines. Each have their faults, and I was in no way insinuating that Ford was perfect.
My real thoughts are, as long as you don't buy a current Tundra, I'm happy for your choice! LOL!