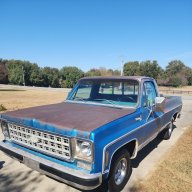 Joined

Oct 21, 2022
Posts

73
Reaction score

83
Location
First Name

James
Truck Year

1978
Truck Model

C20
Engine Size

350
Ok so didn't know where to post this, kinda transmission problem and kinda engine problem.
This is the problem I am having though.
When the transmission switches gears, I suddenly lose all power from the engine. Pressing the gas peddle makes it bog down, letting it idle just sounds like it's about to die. So I have to limp it back home probably restarting it every 100 ft or so. Kinda embarrassing lol.

When I first drove the truck off the lot she ran fine, only didn't ever get into 3rd. So I did the usual tune up stuff.
Topped up the ATF, swapped the spark plugs and got new oil/filter. After I did this she ran as before just never got into 3rd.

So I looked on here for help, was told to check the vacuum modulator/lines. Changed the modulator, same problem happening. Have since then changed the distributor, same problem.

Now she will start up and sound great, but as soon as I get her down the road far enough to switch into 2nd, she gets the same problems again. And anytime I start her up while trying to get it back home she's running like my timing is just jacked, whole truck shaking, will die if I give it any gas.

And if I let it sit for 10 mins, it's like she has a factory reset and runs great again like nothing was ever wrong. This is very confusing to me, thinking of flushing the transmission and changing filter.
If y'all have any pointers I'd sure love to hear them.