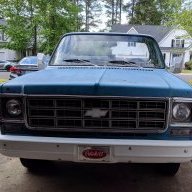 Supporting Member
Supporting Member
Joined

Jul 28, 2019
Posts

114
Reaction score

173
Location
First Name

James
Truck Year

1978
Truck Model

C10
Engine Size

250
Hi all,
I'm replacing my intake, exhaust, and carburetor in one fell swoop. As such, I'm working on some emissions vacuum routing to make everything work as expected. Part of that involves exhaust gas recirculation (EGR) and early fuel evaporation (EFE) systems. This topic has been gone over a multitude of times, as any search here (or on other forums) will tell you. I'll try to keep my questions specific to help make this more unique than "should I rip emissions equipment out".
So I've decided to remove both EFE and EGR because my new exhaust (long tube headers) and intake (offenhauser 5416) don't have provisions for the EGR butterfly valve or either of the vacuum valves required, plus I ended up removing the EGR TVS from my water neck because I'll need it for routing coolant to my intake.
Question ultimately is, what do I do with the evap canister? I have no desire to drill a hole in my gas cap, so I'm going to keep the canister there for fuel tank evaporation. There are other hoses though, which go to the EGR valve/TVS, manifold vacuum, PCV valve etc. Can I just plug those ports off and leave it at that?
For implementation-specific details, I'm using ported vacuum from carburetor for vacuum advance to distributor, leaving two other manifold vacuum ports unused (one on carb, one on intake). I also replaced the PCV intake with a breather and sawed the rear PCV valve short to run a hose straight to PCV fitting on carburetor, so there's no longer a need to route that to the canister either.
Here's a copy of the vacuum hose routing for my vehicle for reference; it looks exactly like this stock.
You must be registered for see images attach
Thanks for any and all help, and let me know if I should provide any more detail (or go do more research lol)